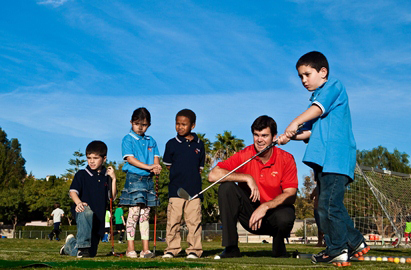 We are offering numerous junior golf programs again this year in the hopes that we can accommodate everyone that has an interest in the game. Here is a quick overview of our offerings, click on the links under each heading for more information.
Overloook Golf Course Summer Junior Camp



The 2 Day Junior Golf Program will once again be offered at Overlook in 2019. The program will run will on Monday's & Tuesday's during the summer. Monday's times will be either 8, 9, 10 AM and Tuesday's start time is 7:00 AM. Start date will be early June and it runs until August.
Entries will be emailed out to all 2018 Junior Campers and they will have until April 15th to return the paid form to secure their spots again.
Starting April 16th, we will open up the program to the public for any remain spots that have not been filled. We take 48 juniors ages 8-16.
If you were not in the 2018 Junior Golf Camp, your entries will not be accepted until April 16th, first come first in basis.
Junior Golf Registration is Closed as all spots have been filled
PGA Junior Golf League



A new concept of league play developed by the PGA to bring a team oreinted theme to golf. We are in the process of working on this, teams already being established by Overlook Golf Course, Four Seasons Golf Course, Tanglewood Golf Course, Moccassin Run Golf Course. Cost to join the our PGA League Team is $150, start date is tbd. For more information please click on the link below. Schedule will be posted soon.
PGA Junior League Registration is Closed, team has filled it's roster
2019 PGA Junior League Golf Schedule
PGA Junior Golf League Website
Drive, Chip and Putt Championship
This free nationwide youth golf development initiative is open to boys and girls ages 7-15, competing in separate divisions in four age categories. In its third edition, the Drive, Chip and Putt Championship will open qualifying locations throughout all 50 states during the months of May, June, July and August. Top performers at the local level will advance through sub-regional and regional qualifiers in July/August and September, respectively. The top 80 performers – 40 boys and 40 girls – will earn an invitation to the National Finals at Augusta National on Sunday, April 1, the eve of the 2018 Masters.
Drive, Chip and Putt Championship Website
2019 Junior Memberships: $500
Must be under 18 years old
Unlimited range usage, no sharing balls
Weekday Golf anytime after 10 AM
Weekends anytime after 12 PM
Cart rates, must have license and regular price apply